Inaugural Ceremony of the Reconstruction of the Building of Yuba Sahabaghita Secondary School Successfully held in Kathmandu by China Foundation for Poverty Alleviation
time:2016-08-09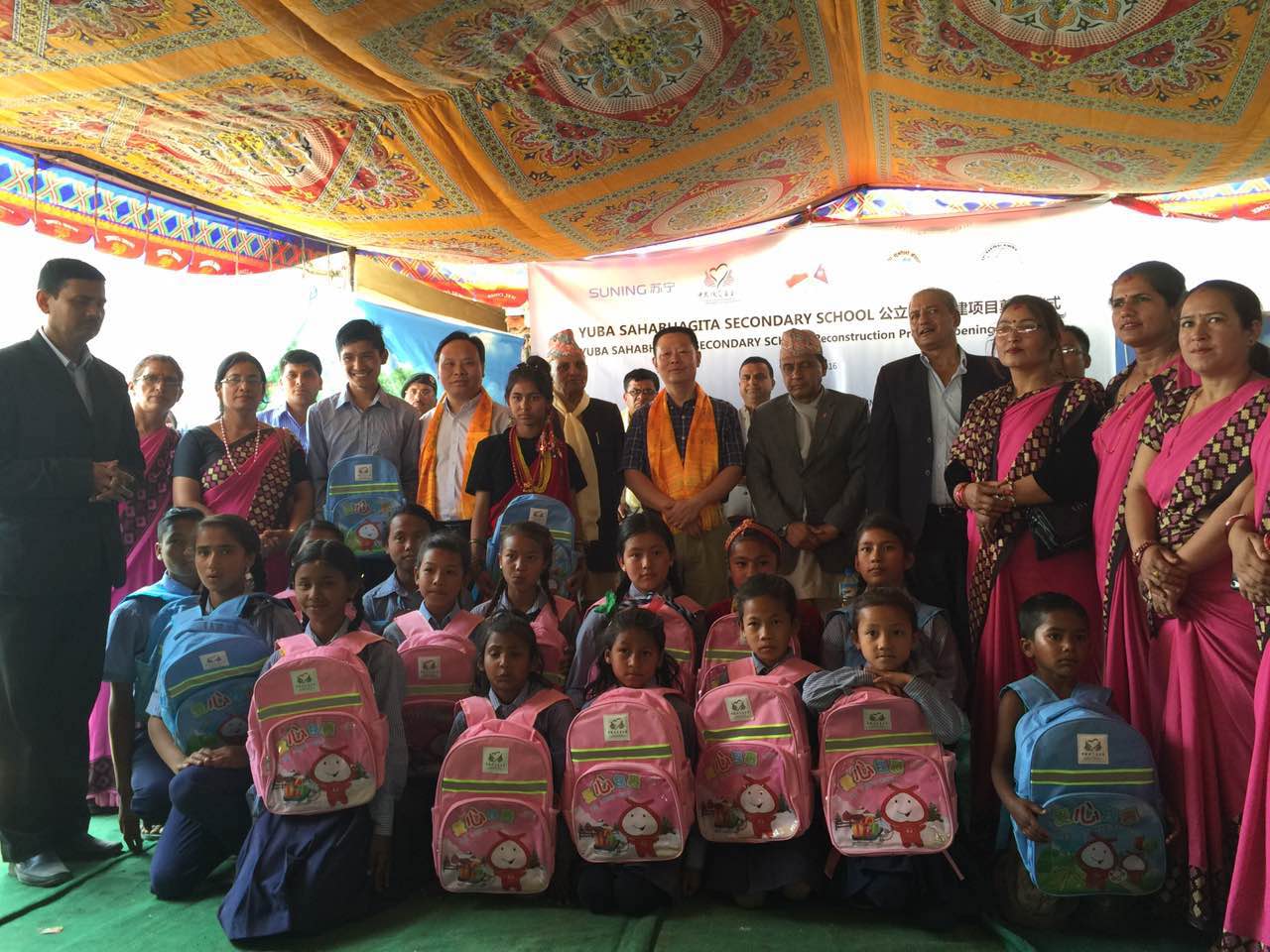 In April 24th, 2016, as the first anniversary of the Nepal Earthquake is approaching, with the donation of Suning Group, a leading Chinese commercial company, China Foundation for Poverty Alleviation (CFPA) successfully held Inaugural Ceremony of the Reconstruction of the Building of Yuba Sahabaghita Secondary School. About 1000 participants attended the event, who are Mr. Giri Raj Mani Pokhrel, His Hon. Education Minister, Mr. Zheng Yong, Director of Chinese Ambassador to Nepal, Mr. Wang Xingzui, Vice-President of CFPA and Mr. Wu Peng, Director of International Department of CFPA, Ms. Zou Zhiqiang, Country Director of CFPA Nepal Office, Mr. Rakesh Hamal, Board Member of Social Welfare Council, school Principal, CFPA Nepal Office staff, school children and their parents as well as Chinese and foreign friends in the media attended the ceremony.
At the ceremony, Hon. Education Minister gave a warm speech and expressed sincere thanks to Chinese NGOs for their " People helping people" aid Nepal education and He also wished the students in the aided school for healthy growth and for the inheritance of traditional friendship between China and Nepal. Mr. Zheng Yong, Director of Chinese Ambassador to Nepal, in his speech, hoped more Chinese non-governmental organizations to carry out public projects and assist reconstruction of Nepal for the benefit of ordinary people. Vice-President Mr. Wang expressed best wishes for success of the ceremony and school rebuild. He officially launched reconstruction project of CFPA in Nepal of 4.1 million Yuan. In the next two years, China Foundation for Poverty Alleviation wbill focus on education and health in Nepal reconstruction. It will invest RMB 2.7 million Yuan (NRs 43.6 million) for reconstruction of two school buildings of Shree Yuba Sahabhagita Secondary School and Padmodaya Higher Secondary School destroyed by the earthquake. Also stationery and psychological counseling support programs will be provided benefiting about 2000 students. Prevention and control of Hepatitis B and water, sanitation and health promotion programs will be carried out investing RMB 1.2 million Yuan (NRs 19.2 million) to help about 50000 people. He added, CFPA will also actively work to raise money to carry out a care package, computer classrooms, community development and other projects. He stressed that the project implementation will stick to 4 principles of "People Helping People", "Needs-driven", "Partnership" and "Sustainability" to ensure that the project really benefit ordinary people of Nepal. He firmly believe the implementation of this project will contribute to strengthening the friendship between the people of the two countries since on the one end, it links to hundreds of thousands of individual and organization Chinese donors who care about Nepal post-disaster reconstruction, and on the other end, it links to thousands of needy people in Nepal.
According to statistics, as of April 20, 2016, CFPA has raised a total RMB 10.62 million Yuan (NRs 169.92 million), of which RMB 4.48 million Yuan (NRs 71.68 million) funds for emergency relief, RMB 1.96 million Yuan (NRs 35.36 million) funds for temporary resettlement, RMB 4,17 million Yuan (NRs 66.72 million) for the reconstruction. The total number of beneficiaries reached 177,500 Person/times.
In the emergency phase, CFPA invested a total of 138 person/times with more than 5,000 hours for 60 days of uninterrupted emergency relief work. It launched disaster assessment, life rescue, feeding, sanitation disinfection, health care, aid distribution and other 15 projects and the number of beneficiaries reached about 155,700 person/times; in temporary settlement stages, it carried out the resettlement community, camp schools, orphans and disabled children care and other projects and the number of beneficiaries is about 21,700 person/times.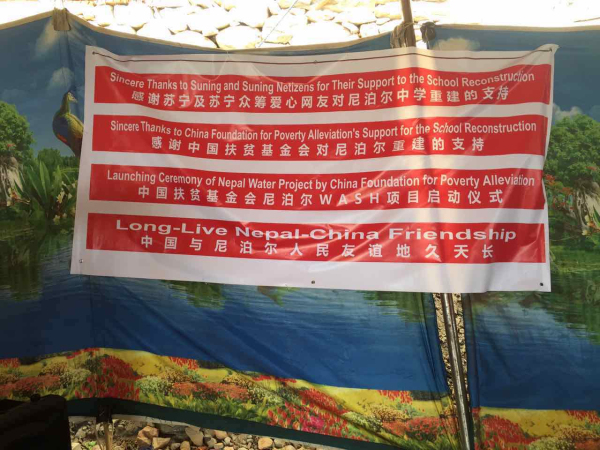 In order to better implement the reconstruction work in Nepal and in August 13, 2015, CFPA and Social Welfare Council of Nepal signed a general agreement, formally incorporated Nepal office responsible for reconstruction work in Nepal. The success of CFPA's registration in Nepal and its normal operation marks that the "4 problems" (no permanent staff, no long-term financial support, no long-term project and no fixed office space) of Chinese NGO internationalization is being cracked.