Siemens Home Appliances & China Foundation for Poverty Alleviation Launched the Children Companion Mothers Program of Suichuan County, in Nanchang city of Jiangxi province
time:2018-05-28
On May 22nd, 2018, Siemens Home Appliances and China Foundation for Poverty Alleviation (CFPA) officially launched the Children Companion Mothers Program of Suichuan, in Nanchang city of Jiangxi province. This project is aimed at caring and protecting of left-behind children and orphans and vulnerable children in 10 villages across Suichuan county of Ji'an city, in Jiangxi province. Mr. Gerke, Chairman and President of BSH Home Appliances Investment (China) Co., Ltd., Mr. Zhu Heping, Vice Chairman of Jiangxi Charity Federation, Ms. Wen Huifang, CFPA's Director of Health &Development Department, Mr. Yang Tangda, Deputy Director of Suichuan Civil Affairs Bureau, representatives of Children Companion Mothers and more than 20 media were invited to attend the event.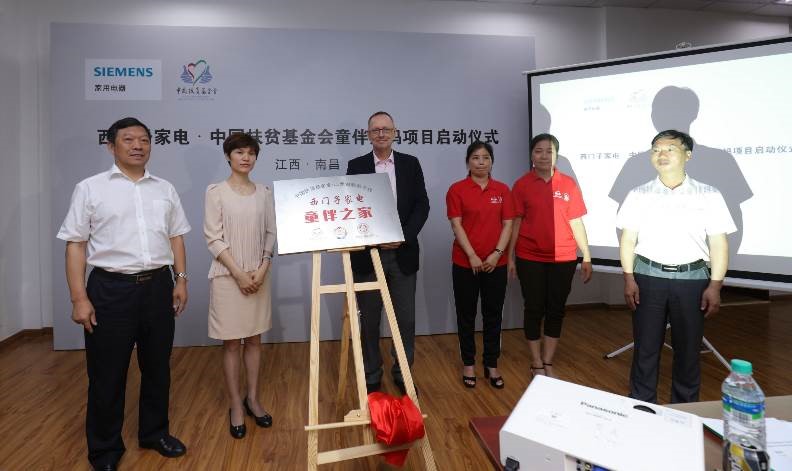 "As a world-renowned brand of high-end household appliances, Siemens HA strives to enrich the lives of Chinese consumers through outstanding innovative design and advanced engineering." said Mr. Gerke. "This Children Companion Mothers Program is an extension of more than 10 years of friendly partnership between Siemens HA and the China Foundation for Poverty Alleviation. Children are the future and hope of a family, and we are proud to contribute to their healthy growth. We believe the launch of the project in Suichuan of Jiangxi province will be a new milestone for Simens HA's cooperation with the CFPA."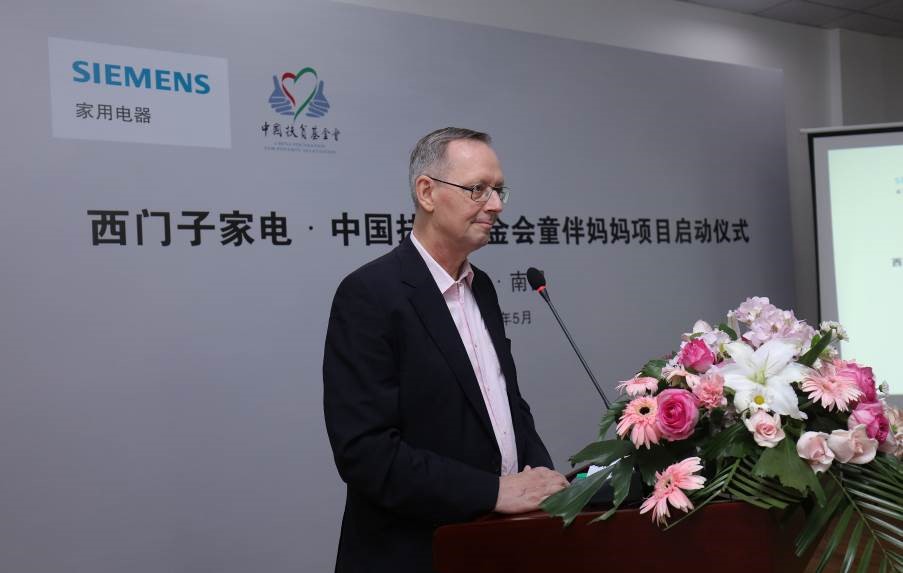 "The project in Suichuan, jointly launched by Siemens HA and the CFPA, was the first time for entering Jiangxi province, marking a new stage of the program's scale-up." said Ms. Wen Huifang, Director of Health & Development Department of CFPA." According to the statistics of Ministry of Civil Affairs, there are 9.02 million left-behind children in China, and the number of that in Jiangxi province ranks the top. Suichuan county is located in contiguous area of Luoxiao Mountain, not only an old revolutionary area, but also a national-designated poverty county.. There are many children left behind in Suichuan. We are very grateful to Siemens HA for extending care and financial assistance to the left-behind children in Suichuan county of Jiangxi Province. We will hire a full-time Children Companion Mother for each of the 10 villages in this program. Through establishing records for these children, conducting regular visits and organizing activities in children's activity centers.The mothers will timely discover their needs and coordinate resources to meet those needs, ensure that the children receive the necessary welfare and safeguard their secure and healthy growth."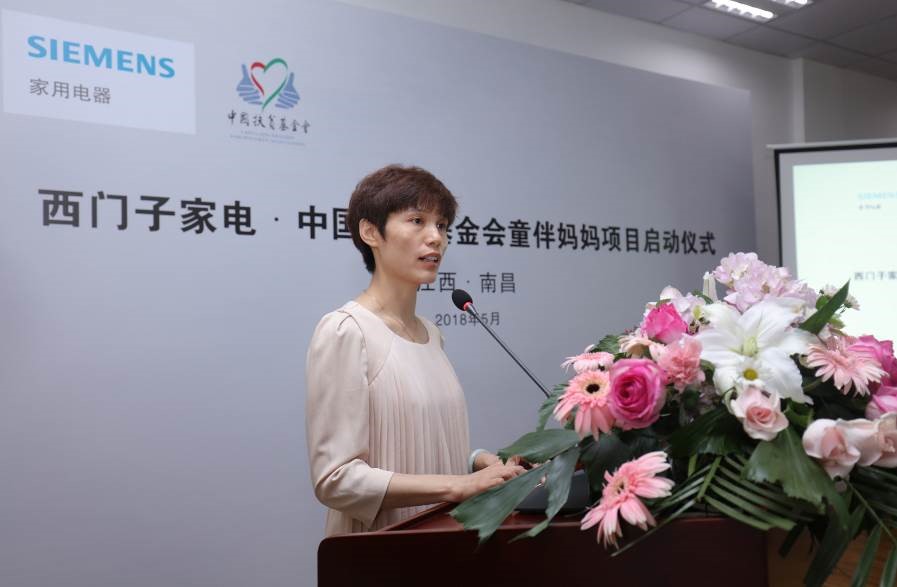 "This year, the implementation of Children Companion Mothers Program in Jiangxi province fully shows that CFPA attaches great importance to Jiangxi's poverty alleviation and makes efforts to enhance care for children, " said Mr. Zhu Heping , Vice Chairman of Jiangxi Charity Federation. Siemens HA is committed to social charity and charitable relief work while providing outstanding innovative design and cutting-edge German craftsmanship, and carry out social responsibility actively. Your company donated money to our province for child protection, which reflected Siemens HA's attention for left-behind children in this old district and profound affection for this red land in Jiangxi.
At the event, Mr. Yang Tangda, Deputy Director of Suichuan Civil Affairs Bureau, provided an update on the current work progress and future work plan of Children Companion Mothers Program, and shared video clips about the progress of the building of the children's activity centers and the status of services to the children.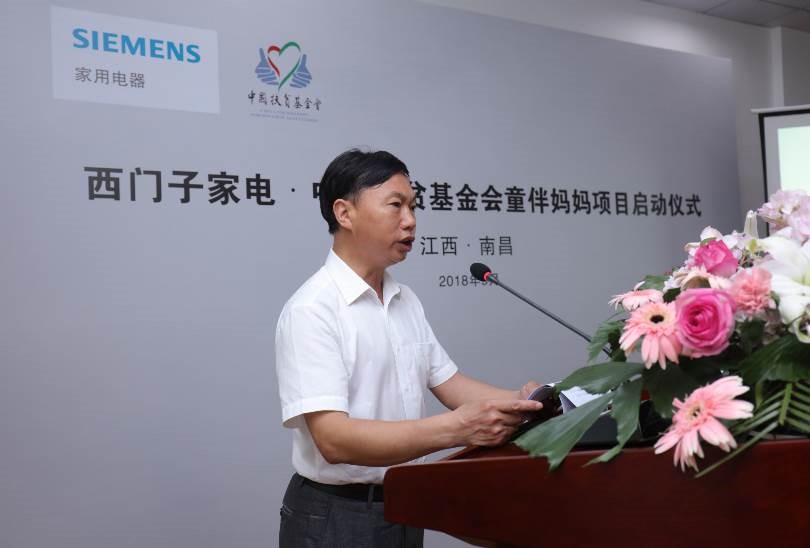 One representative of Children Companion Mothers, Ms. Guo Rongrong shared the reason why she decided to do this work, the way how to do this work well and the service experiences to the left-behind children. She said: "I was a left-behind child in the 1980s and now I'm a mother of two children. Due to my own experience, I chose to give up doing our business and returned to my hometown to take part in their growth. Whenever I see those left-behind children in the village, I would think of my childhood and my children, so I chose to be a Children Companion Mother."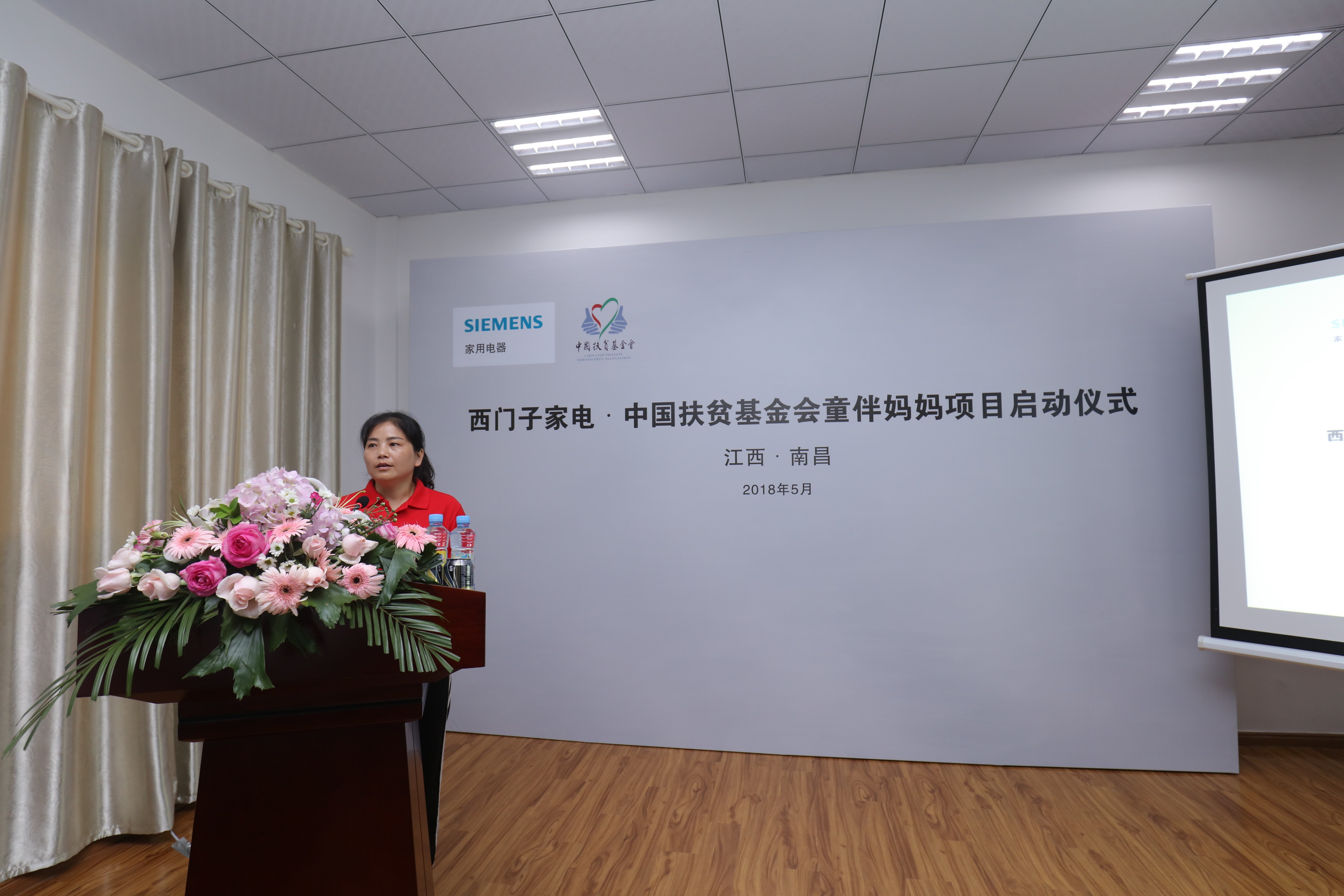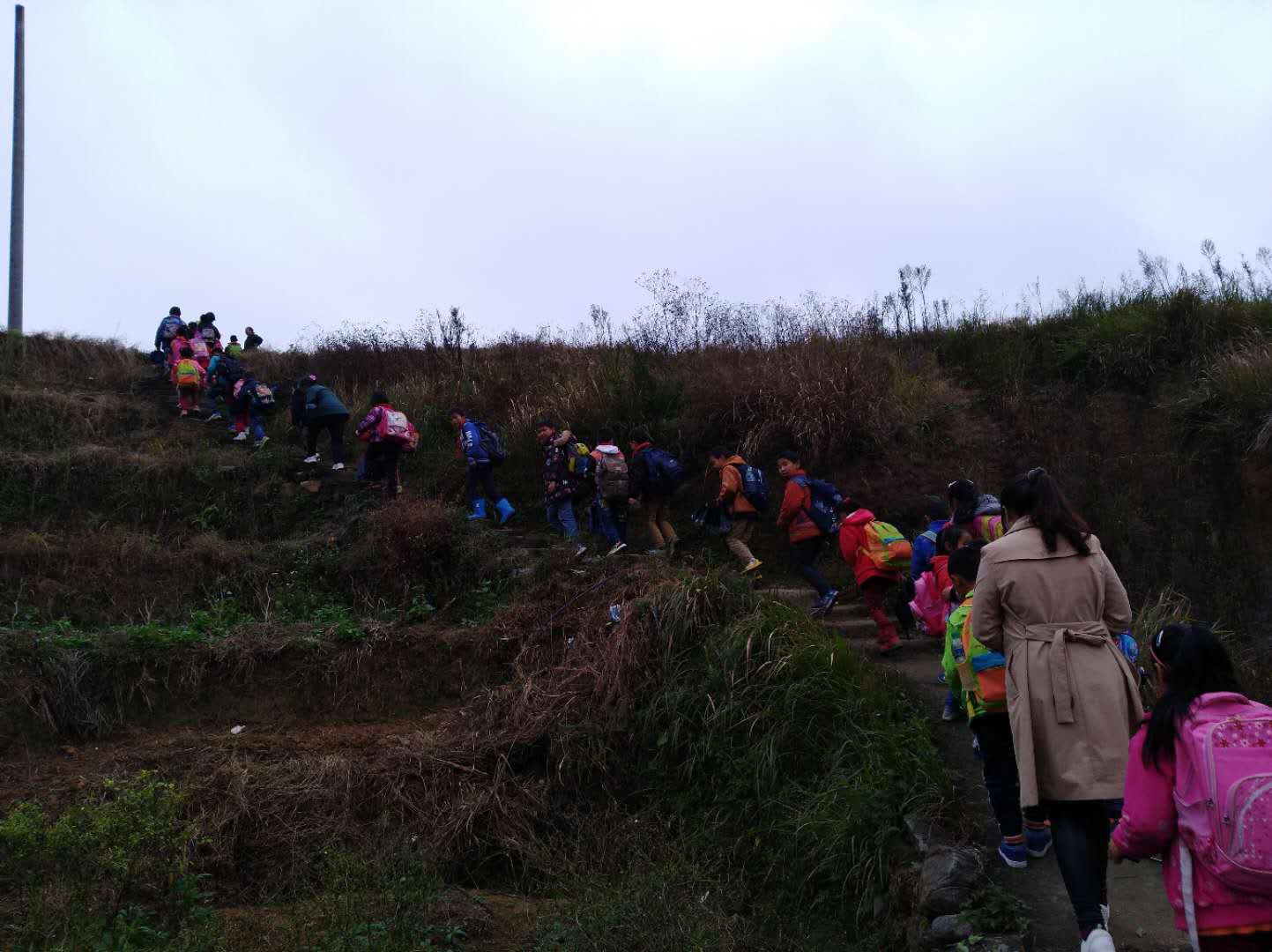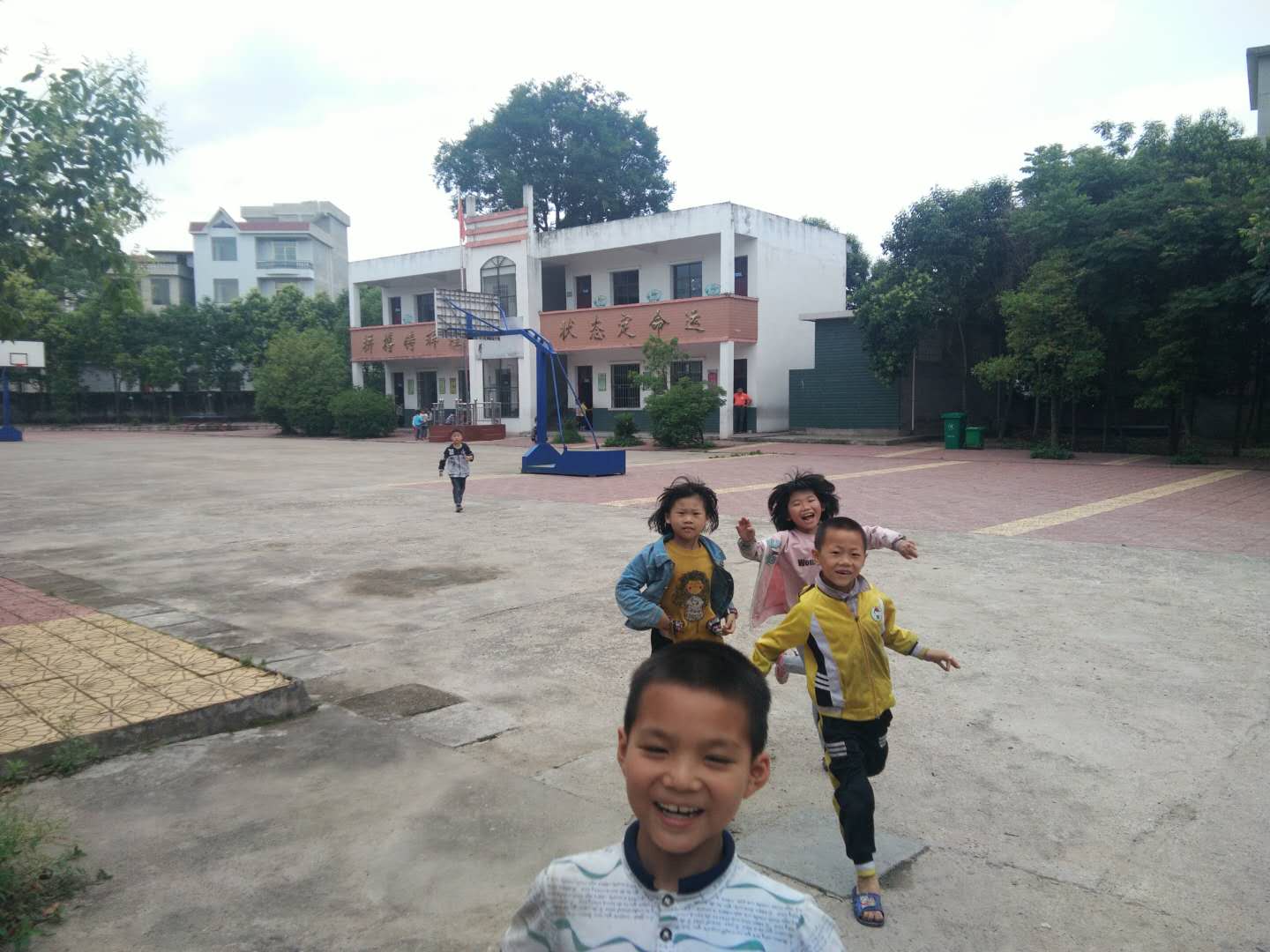 -------------------------------------
Children Companion Mothers Program
The Children Companion Mothers Program was initiated by CFPA jointly with local government, research institutes, public welfare organizations and charitable enterprises to care for left-behind children's physical and mental health, protect their rights and interests, and explore effective ways to ensure their welfare. Established in October of 2015, the project has reached many areas of Sichuan, Guizhou, Yunnan and Jiangxi provinces, and covered nearly 190,000 children.