Ways to tackle waste
time:2018-05-10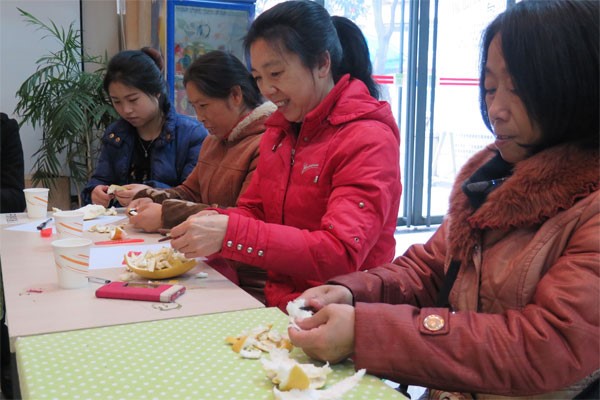 Communityresidents in Chengdu ferment kitchen waste at a processing center set up bystudents from Southwest Jiaotong University. [Photo provided to ChinaDaily]
A competition among university studentsproduces garbage-disposal innovations. China Daily reports.
They're competing to become"CEOs"-that is, "creative environmental officers".
About three-dozen students wererehearsing pitches under their breath and cradling packages of plastic bottlesas they prepared to present in a Beijing Forestry University auditorium onMarch 23.
They were members of the 10 finalistteams of the 2017 national "Bin it In" contest that encouragesuniversity students to devise creative ways to reduce waste.
More than 1,400 teams from 50 Chineseuniversities have participated since last September. The students developedsolutions using technology, design and education.
"We hope the youth can motivatepeople around them to become eco-conscious and environmentally responsibleafter this competition," says China Foundation for Poverty Alleviationvice director Jin Shuyu.
The foundation and global food-productsmanufacturer Mars co-sponsored the event.
The10 finalists' proposals focus on recycling, reusing and waste sorting.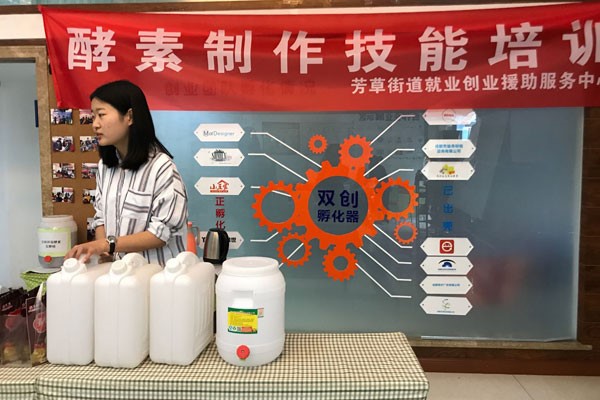 A student fromthe Southwest Jiaotong University team shows people how to ferment kitchenwaste. [Photo provided to China Daily]
Innovations
A student team from Chendgu's SouthwestJiaotong University is using biotechnology to process kitchen waste. Fermentingfruit and vegetable matter with brown sugar and water produces an enzyme thatfunctions as an eco-friendly detergent. The team shortened the process fromthree months to eight days in March 2017.
"We read studies on howmicroorganisms can accelerate enzyme production," 21-year-old biologymajor Tian Jiazi says.
"So, we decided to test it in thelab."
The group has handed out about 850samples of the detergent to residential communities over the past year,20-year-old team leader Liu Xiaowen says.
They also installed two processingcenters in two neighborhoods with a combined population of about 2,000 inFebruary.
The team provided equipment andmaterials, such as 10 20-liter fermentation buckets, brown sugar andpre-measured doses of microbes.
Residents are encouraged to trade theirfood waste for detergent. Nearly 100 households have done so far, Liu says.
Liu encourages every household to filterout the liquid before discarding kitchen waste.
"Getting rid of the fluids reduceswaste and minimizes contamination during incineration," he explains.
Pilot projects
Five Xiamen University environmentalscience majors devised a system that educates, assists and supervises students'waste sorting that's inspired by an environmental campaign that Xiamen'smunicipal government initiated last year.
They piloted the project in a dormbuilding a year ago.
Team members knocked on all 60 rooms'doors to hand out eco-packages that contain a woven sack for recyclables, anadhesive hook for hanging it, a kitchen-waste trashcan and a flyer about wastesorting.
Team member Qiao Biting insists onpersuading students in person to use different containers for different waste.
"It's the simplest and mosteffective way," the 21-year-old says.
"Inertia is a part of human nature.Cultivating good habits is a long process."
Qiao and her teammates placed seventrash containers for categories ranging from paper to toxic waste.
The containers are printed with emojisand conversation bubbles that encourage people to sort their trash into thecorrect bins.
The "recyclables" emoji is asmiley face with dollar signs for eyes. The word bubble beside it reads,"Trade me for money!"
Team members volunteer to monitor thecontainers three hours a week to ensure they're used properly.
The system has expanded to sevenbuildings that house nearly 2,000 students in total. The team's new goal is toimplement the project in all 66 dorm buildings on Xiamen University's Xiang'ancampus.
"Xiamen University may become oneof the leading universities worldwide in waste sorting if they fully adopt thesystem," says Mao Da, policy consultant of the NGO China Zero WasteAlliance.
Mao,who's a competition judge, appreciates the method's educational value. Herecommends implementing it across universities in China.
The winner of this contest is the teamfrom Xiamen University.
Indeed, it seems the competition'scontestants are at least stabbing in the right direction and may carve outcutting-edge waste-disposal innovations worth preserving and promoting.
Liu Yinglun contributed to the story.