Feature: "Companion mothers" ease left-behind children's thirst for love
time:2018-02-28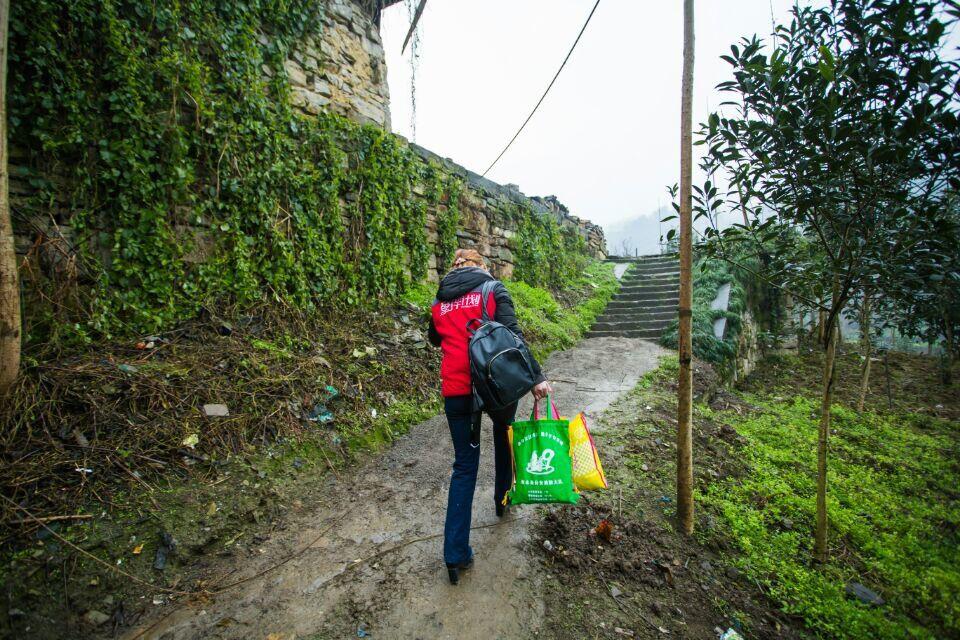 "Companion Mother" Zhang Xinming was on her way to send some stationery to children before Chinese New Year.''
BEIJING, Feb. 7 (Xinhua) -- Ren Li, 39, never pictured herself as the mother of multiple children. She has a daughter attending high school. Every weekend, she spends time singing, dancing, and reading with 35 left-behind children in the village where she was born.
These children from Huoguang Village in southwest China's Sichuan Province share the same woes as the 9 million rural left-behind children under the age of 16 across the country. As a mother, Ren understands how much these children suffer due to their parents' absence.
Ren can still recall the day in 2015 when she saw a notice recruiting "companion mothers."
"What a great idea to share my love with these children!" Ren said. She signed up for the program immediately.
Ren has a benevolent heart and loves to take care of children. After one month of training, she became a companion mother working in her village, one of the 100 villages involved in the program in Sichuan.
Within the first two months, she visited every household with children and recorded their family backgrounds. "In the beginning, the villagers didn't trust me. I had to tell them who I was and what I could do for their children" Ren said.
A 100-square-meter children's center was built in the village, with sponsorship from the China Foundation for Poverty Alleviation (CFPA) and Sichuan Provincial Communist Youth League. Equipped with picture books, sports equipment, and tables, the center is often crowded with children on weekends.
"It has become another home for these children whose parents are far away from home. At first, they wouldn't even look at me and most of them didn't talk much. Once they became more comfortable, they told me how they wished I was their mom," said Ren.
Xiao Bin, 8, who has not seen his parents for a whole year, said he likes Ren's long hair and smiling eyes. "My parents call me often, but all they ask is if I am behaving well or studying hard. Sometimes I'd rather talk to Mother Ren," the boy said.
China's booming cities have drawn millions of young parents from villages for better-paid jobs leaving their children in the care of grandparents or other relatives.
A 2017 report by On the Road to School, a Beijing-based charity group dedicated to helping left-behind children said lack of contact with parents can cause severe psychological problems like depression in those children.
"Psychological problems can further affect their academic performance. These children need much better psychological support," said Li Yifei, a psychologist from Beijing Normal University who has studied the conditions of left-behind children for three years.
Over the years, China has launched multiple programs and invested in improving rural education, but often the resources don't meet the needs of children.
"We began the companion mother program in a bid to build a bridge between children and their parents, and children and policy makers," said Qin Wei, assistant executive director of CFPA.
Since 2015, the program has recruited more than 203 mothers in villages in southwest China's Sichuan and Guizhou provinces. The mothers have learned the problems and needs of each child through their visits and reported serious cases to CFPA, which coordinates efforts from education, civil affairs, and police departments to offer help. The program has been extended to 600 villages in the two provinces.
"At the end of last year, our program had helped 2,037 children to obtain household registration permits and more than 973 poverty-stricken children to receive subsistence living allowances. Without these mothers, we would not have made it so far," said Qin.
The companion mothers are required to be aged from 19 to 55, should have a love for children, and at least a high school education. They receive intensive training, including basic psychological counseling, and receive an annual salary of 24,000 yuan (3,828 U.S. dollars) and another 10,000 yuan (1595 U.S. dollars) per year to purchase equipment or supplies required for their work.
Zhang Xinming, once a left-behind child herself, now is a companion mother for 100 left-behind children in Sichuan's Hongxing Village.
"My own life experience as a helpless child taught me how desperate life can be for these young boys and girls," said Zhang. She not only organizes activities for the children but also walks up to three kilometers from her home to visit them individually whenever she has time.
Zhang discovered that grandparents often don't know how to deal with the children's education or psychological needs. "Some girls are reluctant to talk about what they have been through, some have even been sexually harassed. As their mother, I need to tell them how to protect themselves, " said Zhang.
By the end of 2017, the program had benefited 100,000 children and it will be expanded in southwest China's Yunnan Province and central China's Jiangxi Province this year.
One of the major reasons why young parents leave their hometowns is to free their family from poverty. China has lifted 700 million people out of poverty over the last 30 years and is now making more efforts to revitalize its rural areas. A national strategic policy has been drafted and submitted for approval.
"I have followed the progress of the policy. Revitalizing rural areas may break barriers between the city and countryside, and attract young parents to return home," said Zhang.
"No matter how much we love these children, we are not their real mothers. They still need their parents' care. I hope more parents can find jobs near their village so they can stay with their children," said Ren Li.
This article was reproduced by Xinhua writer Liu Wei
.