Maternal and Children Health Network Establishment Project
Background
Sudan is a country that has the highest death rate of pregnant and lying-in women in the world, which is nearly 25 times more than China. According to Program Assessment in Sudan, causes of the high death rate of pregnant and lying-in women mainly lie in shortage of Maternal & Infant Healthcare Network and backward thoughts. Based on that, China Foundation for Poverty Alleviation introduces more than 10 years of experience in implementing the Maternal and Child Health Project in China to Sudan.
Goals
E

stablish Maternal and Children Health Care Network Demonstration Zone in Sudan.

Expand the medical service scope.

Improve the medical service level of rural areas and provide reference experience for Sudan to reduce the death rate of pregnant and lying-in women and infants.

I

mprove service capacity and management of local hospitals.
1. Prefabricared Hospital Project
The hospital will have departments of internal medicine, general medicine, orthopedics, stomatology, ENT, ophthalmology, pharmacy, laboratory, B-scanner, X-ray, anesthesiology, operation room and other departments.
Project period
one year
Funding criterion
$1million for a prefabricared hospital covering an area of 1000 square meter
Project case
In December 2010, China National Petroleum Corporation International (Nile) Ltd.. donated USD 600,000 for the construction of Sudan-China Abuausher Friendship Hospital. On June 2011, CFPA cooperated with AL Birr & AL-Tawasul Organization to successfully complete the construction of the Hospital. The hospital project is highly recognized by both China and Sudan governments. Mr.Zubibr Bashier, the Governor of Gezira State, claimed that the hospital was the most advance in his state. The project is considered as the model for international cooperation of the Ministry of Foreign Affairs of People's Republic of China.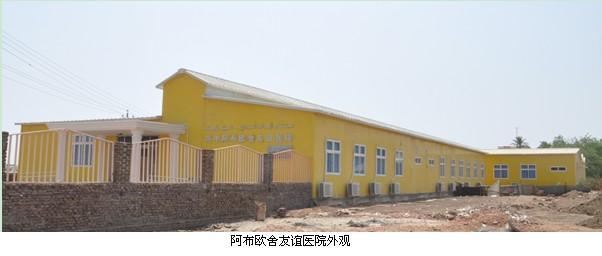 2. Maternal & Infant Healthcare Network in Sudan
Project contacts
Set up local management team for daily work.

Establish Maternal and Children Health Network Demonstration Zone in Sudan

O

rganize cap

acity building for midwives and pregnancy school in communities

.
Funding criterion
USD150000 each network
3. Medical Equipments Donation project
Contacts
Each package of medical equipments maintains 29 items for delivery safety.
Funding criterion
RMB 2000 each package