Paukphaw Scholarship Project
Background
Myanmar and China are neighboring country, having long-term friendship. In January 2013, CFPA sent a team to do the needs assessment in Myanmar. The team has visited Myanmar governmental departments, Chinese enterprises in Myanmar, Monasteries, Universities, Villages, Media, Chinese, Embassy, Economic Counselor, and overseas Chinese. A report on Myanmar Assessment was completed and attracted the attention of Chinese government and all social sectors. After the assessment, CFPA decided to introduce its flagship program of university student scholarship into Myanmar, which is called the Paukphaw Scholarship Project. The program aims to provide financial aid and capacity building for Myanmar university students in need and enhance the P2P relationship between Myanmar and China.
Name
Paukphaw Scholarship Project
Goals
1) Mobilize social forces to provide assistance and pass in love to the needy Myanmar collage students, helping them realize their dream.
2) Establish the Paukphaw Students Society and cultivate such excellent qualities as selflessness, dedication, integrity and responsibility.
3) Establish an interactive network and platform for recipient students, donors and the society
Criteria of recipient students
Students whose family can't afford his education due to some causes and who are excellent in character and learning
Project Contacts
Financial Assistance: provide scholarship to help students solve part of the living cost.
Capacity building support: support the activities of the Paukphaw Students Society.
Donation Criteria
300USD per person/year (10 months), 30USD/30,000Myanmar Kyat for each month
Project Operating Process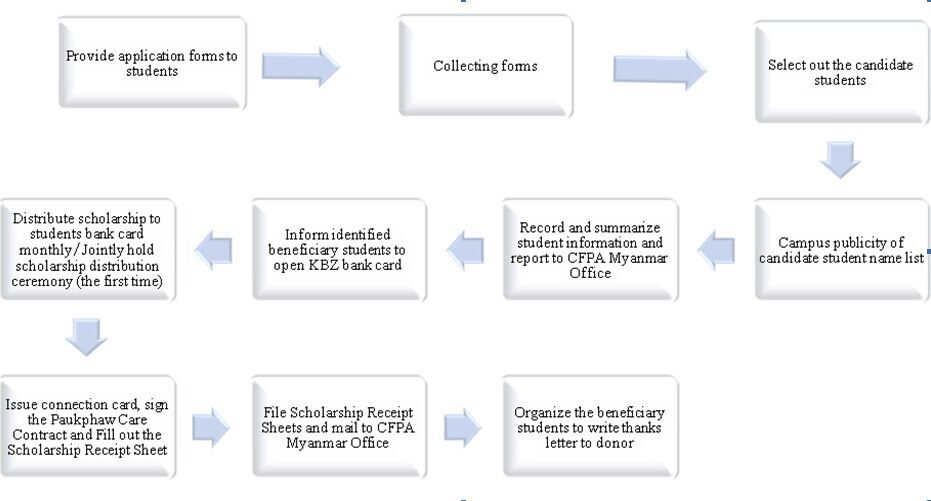 Criteria of Candidate Students
Students with family income below the local poverty line in Myanmar;

Orphaned students, disabled students or students from single-parent families who have no stable source of income;

Students whose learning and living are seriously affected as family income significantly declines due to natural disasters;

Students who have normal learning and living crisis as the major income creators lose labor capacity due to some reason;

Students whose families are especially financially straitened due to critical illness;

Students whose families have more than 2 students attending university;

Students who come from remote rural areas and whose family income is insufficient to pay normal learning and living costs.

4 years of undergraduate students;

Students in the major of engineering, legal, economics, agriculture, cultural protection, political science, international relations, education, computers, and Chinese preferred;

Students who do well in the college entrance examination preferred under the same conditions;

Students not supported by other scholarship;

Less than 25 years of age
Source of Candidate Students
CFPA Myanmar Office will sign Paukphaw Scholarship Project Implementing Agreement with the universities, complying with the principles of project universities. After signing the agreement, the universities will become official project universities and carry out the work of the Paukphaw Scholarship Project in accordance with the Paukphaw Scholarship Project Operating Manual for Project Universities. Project Universities recommend Candidate Students to CFPA Myanmar Office.