New Great Wall Project
Background: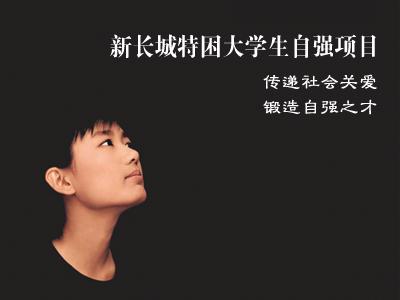 The New Great Wall Scholarship Department at CFPA was established in 2007 for the purpose of financially assisting rural children and young adults from struggling households throughout their secondary and higher education.
The New Great Wall Scholarship Department operates scholarships targeted at high school and university students.

In recent years the government and higher learning institutions have dramatically strengthened their financial support systems for university students.
This has allowed us to focus and intensify our work in assisting high school students who have become our core project beneficiaries.
Overview:
Our high school scholarship model puts students in touch with individual and corporate donors who are asked to commit an annual lump-sum to sponsor an individual student or a set number of students.
CFPA then aggregates sponsor commitments by pairing a 50 student classroom in selected impoverished regions with 270,000 RMB of scholarship funds.

This means a high school scholarship recipient is assured a sponsor every year for the maximum scholarship duration of 3 years and often times will have the same sponsor year after year.
Beneficiary students are provided with a debit card whereby CFPA transfers scholarship funds on a semester basis.

Students and their sponsors are asked to maintain regular contact with each other because sponsors who recieve proof of funds put to good use will be compelled to maintain commitments to the scholarship while students receive encouragement and motivation from their sponsors.
Scholarship recipients receive an annual cost of living allowance of 1800 RMB disbursed in 2 equal installments before the start of each semester.
Results:
As of Sept. 2016 the New Great Wall Project has covered 424 classes across 201 counties in 25 provinces.
With the help of our individual and corporate donors, we have delivered 52,786 annual high school scholarships since the start of the Project.

In 2016, we delivered 2,050 annual high school scholarships.