Care Package Project
Background:
Launched in 2009, the Care Package Project is operated in conjunction with the China postal service. Taking advantage of the postal service's robust logistic network and service penetration within the remote and far flung reaches of China's interior, CFPA collaborates with China Post to deliver aid and educational support material to school children via the postal network.

Overview:
2 categories of aid material are packaged for distribution to rural students.
The Stationary Package comes in a schoolbag and contains contains pens, coloring markers, notebooks, sketchbooks, coloring books, exercise books, a pencil case, a refillable water bottle and assorted toys.
The contents in the Stationary Package are to provide students with stimulating and fun educational material outside of the regular course syllabus, which is usually very formalized and contains few after school or components.

The Winter Care package contains a down jacket and scarf, thermal socks and gloves, knee warmers, and an insulated seat cushion.

The contents in the winter care package are meant insulate students against the harsh winter chill in classrooms as schools in rural china often lack central heating.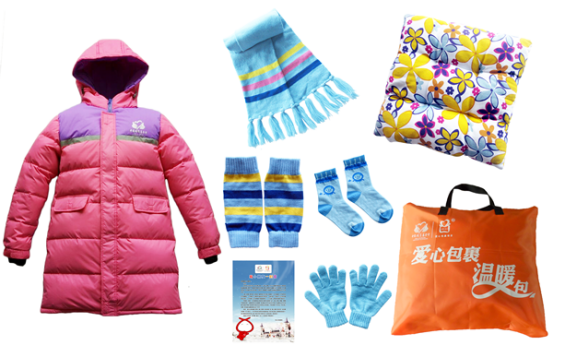 We also provide donors with the opportunity to choose the school and grade in a pre selected impoverished region to send their packages.
Our partnership with China Post makes it possible to directly contribute to this Project from over 36,000 Post Offices in Mainland China.
Results: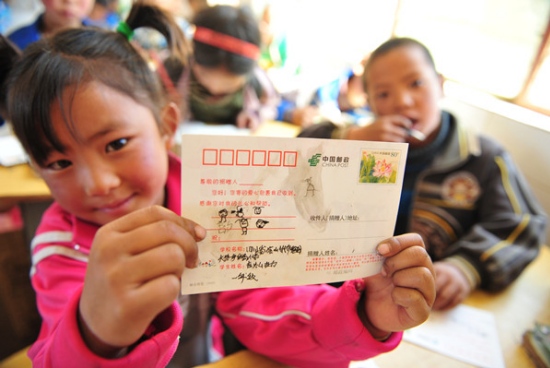 In 2015 we distributed 691,932 Stationary Packages and 120,223 Winter Care packages to 4,522 schools in 209 counties across 30 provinces.

The vast majority of our donors are individual citizens who contributed 95% to the 2015 annual Project funds with the rest coming from corporate donors.