Youth's environmental protection creative actions make a better future
time:2020-06-04
In recent years, environmental protection has gained more and more public recognition. University students, with their fantastic creativity and energy, are active pioneers in environmental action. What kind of environmental philosophy should young people embrace? What kind of sparks can be started by university student's ideas on current environmental issues? Environmental challenges are becoming increasingly complex nowadays. Under such situation, the reflection and practice of the new environmentalist generation are particularly noteworthy by social attention.
The aim is to gather young people who are creative, passionate about environmental protection and willing to apply theory to practice, and offer them opportunities to plan and practice environmental solutions. In 2014, China Poverty Alleviation Foundation (CFPA) partnered with Mars Wrigley Company (China) Ltd. to initiate the"Bin It IN" (BII) Program, whose donation is managed by Give2Asia.
As for the significance of the program, Wang Peng, Deputy Executive Director of CFPA, said: Environmental protection is an important issue for sustainable development of society and also an important domain of philanthropy. No act of kindness, no matter how small, is ever wasted. A small change made by everyone can make a big step forward in environmental protection for the whole society. The BII Program calls for young people to explore and practice environmental solutions.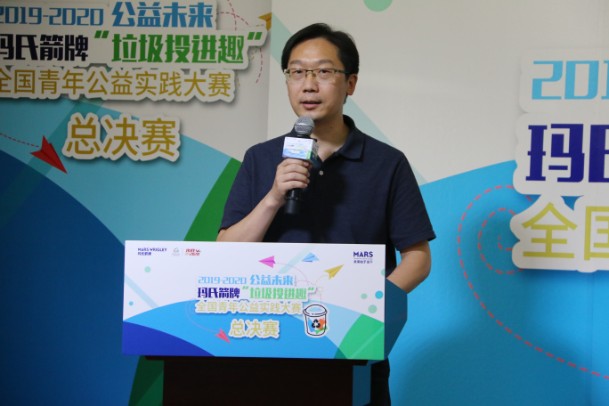 Wang Peng, Deputy Executive Director of CFPA,delivering a speech
The BII Program advocates that university students develop their potential and use interesting ideas to appeal to more community members to cultivate anti-littering awareness. Since its launch in 2014, 215 universities have participated in the program and cumulated a total of 4,398 designs or advocacy proposals, reaching 700,000 people. In recent years, the program has been widely recognized by the society, and has won awards including "Public Philanthropy Times China CSR Excellence Award", "China CSR Excellence Award" in 2015, "CSR China Education Award - Best Social Contribution Award" in 2016, "Golden Flag Award" in 2017.
Since the launch of 2019-2020 Charity Future • Mars Wrigley BII China National Campus Program in August last year, it has received 1156 proposals from 55 universities and colleges, attracting over 15,000 students to participate. After 9 months of competition from campus competition, regional competition to the preliminary rounds of the national competition, the top 15 teams came to the fore and successfully completed their philanthropic programs. At the same time, the fun-filled "Environmental Carnival" in campus has set off a wave of environmental protection enthusiasm in universities and colleges, reaching more than 100,000 people.
This year, due to the impact of the COVID-19, the winning teams of the preliminary round of the national competition were unable to carry out offline community activities. The organizers specially planned an online philanthropy advocacy with the theme of "Today's Environmental Protection Action, Tomorrow's Philanthropy Star" on Tiktok. It was on live broadcast on May 29th. This unique way provided an online display platform for the top 15 teams and built an online practice platform for students to promote their innovative environmental protection ideas. The philanthropy advocacy gained wide popularity among the youth, with over 30,000 views and 46, 000 likes.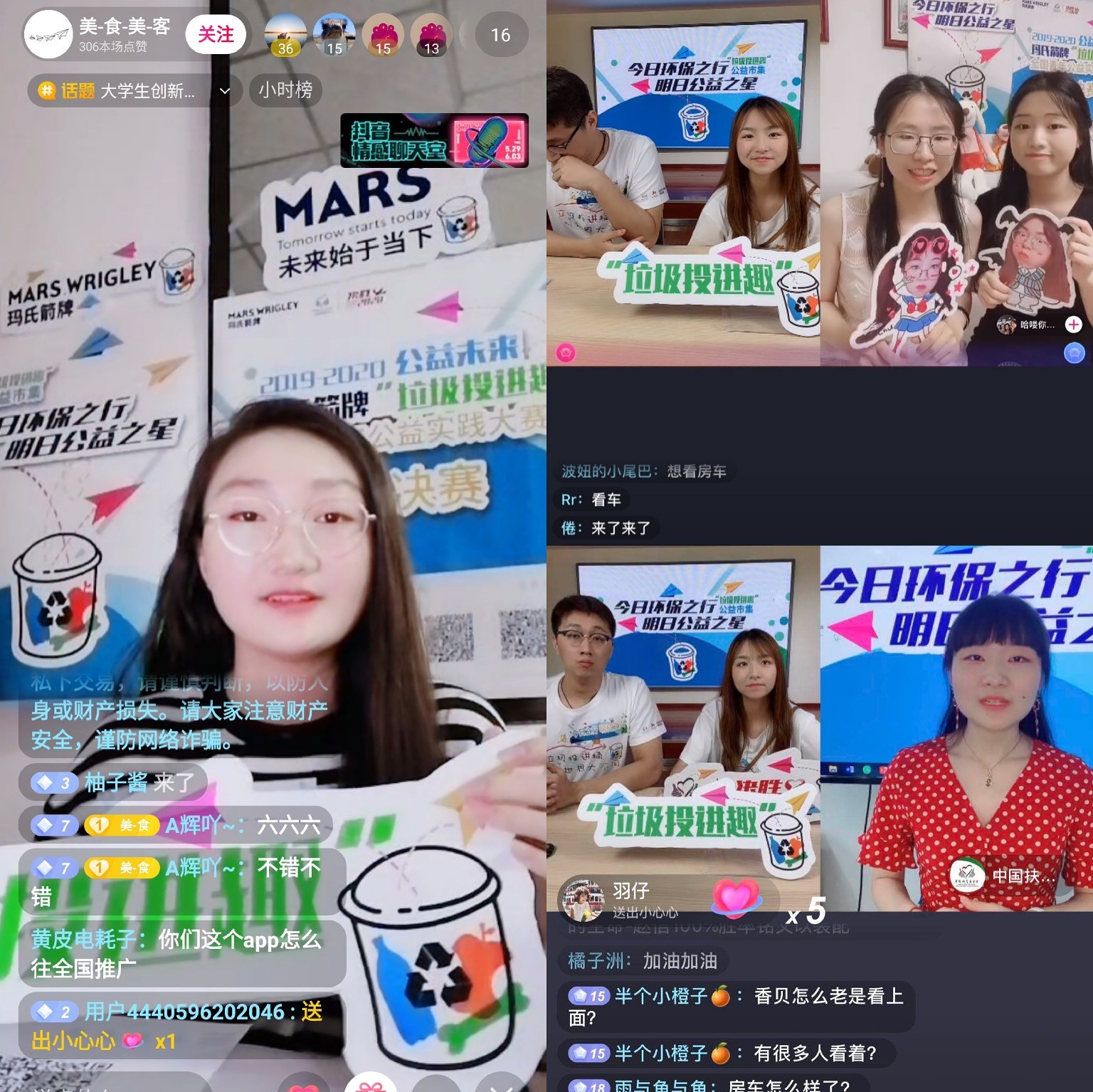 The live broadcast of philanthropy advocacy on Tiktok
The final round of the national competition of this year was also held online. Representatives of CFPA and Mars, environmental experts and brand communication professionals were invited as judges for the final. On May 30th, they watched and listened to the creative presentations of the top 15 teams via video conference. The presentations were then evaluated based on various aspects including innovation, feasibility and long-term influence, presentation performance. Finally, the "Green Energy Storage" team from Huazhong Agricultural University, the "Bingo" team from Minzu University of China, and the "Po He Xiao Dui" team from Sichuan University gained wide recognition from the judges with their creative proposals and brilliant performance. They were awarded with the first, second and third place respectively. Each of the top 15 teams won competition bonus for the practice of their proposals, varying from RMB 1,000-10,000. The champion team also received an additional learning tour for environmental protection.
The "Green Energy Storage" team from Huazhong Agricultural University, which was the champion, designed portable umbrella covers to help shopping malls solve the pollution problem caused by providing disposable plastic bags for customers to hold umbrellas. They innovatively replace disposable plastic bags for setting a holder on the handle of folding umbrellas.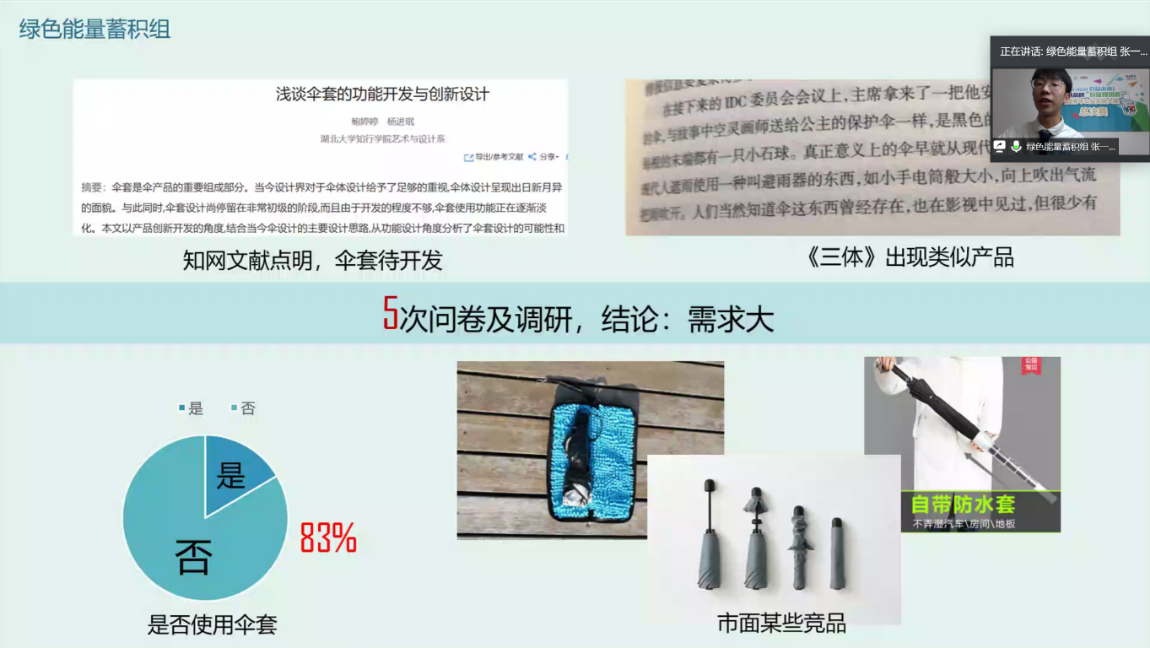 The "Green Energy Storage" team from Huazhong Agricultural University introducing their program online
During the program process which is more than half a year, the university students who participated in the program said that they have benefited a lot. Lin Zhihong from Beijing Normal University said, "Through the competition and the online training course, we have gained extra knowledge and understood how to plan a public welfare program with commercial value". Tian Haining from Shanghai University said, "This competition has impressed our team that we are never short of ideas. What we really lack is the ability to make our ideas come true."
From 2014 to 2020, from initial simple creative design to landing activities which focus on practice, from 15 universities to the current 55 universities, the BII China National Campus Program has been held for six years. Alice YE, One Mars Communications Director said, "Mars and CFPA jointly organized BII China National Campus Program, which brought together a group of outstanding young people from Chinese universities. Through young generation's innovation, practical spirit and social responsibility, we are dedicated to promote anti-littering awareness and build a greener and cleaner future. This is consistent with Mars' vision: 'Tomorrow starts today', a better future for our home starts from the work at present."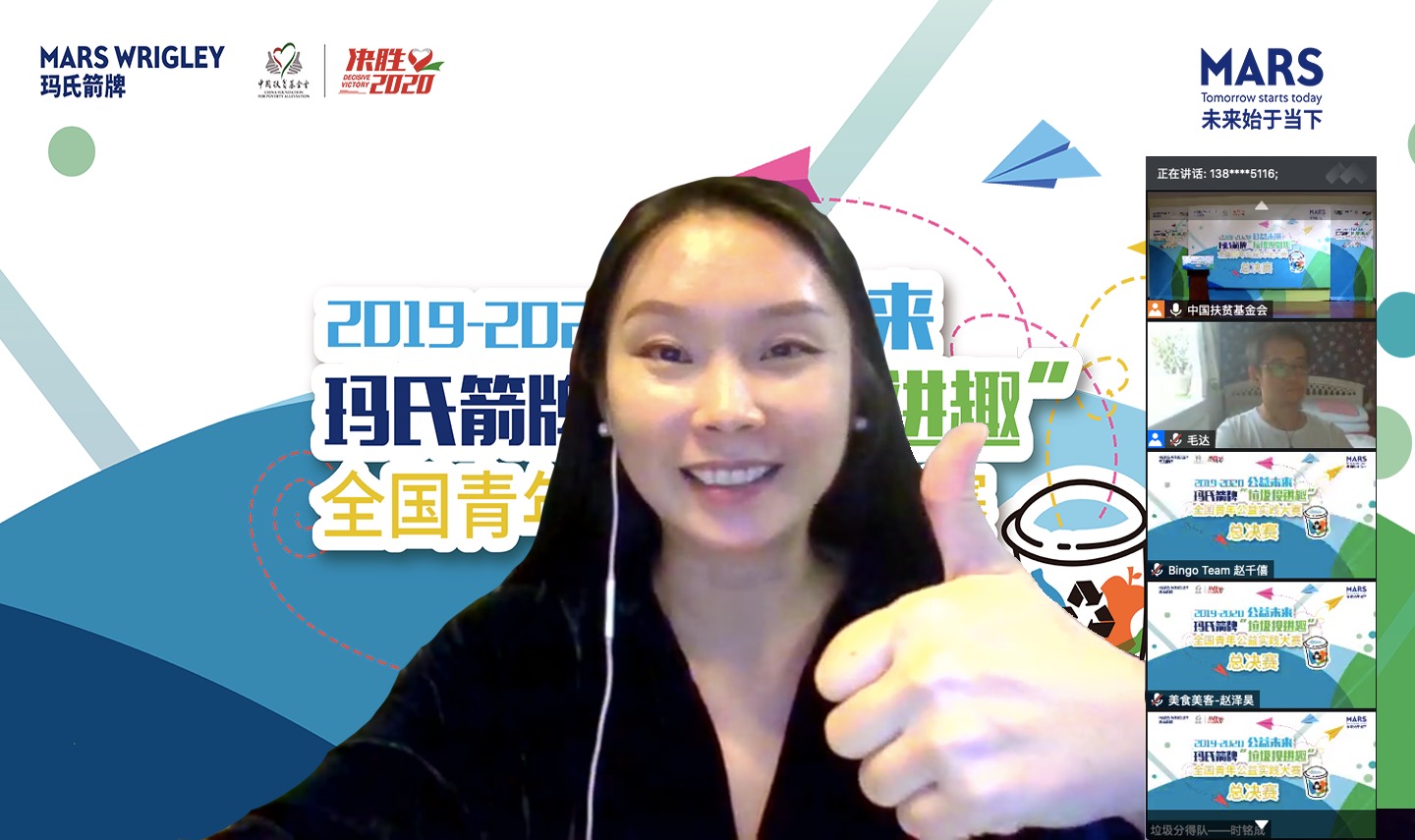 Alice YE, One Mars Communications Director made a speech for the finals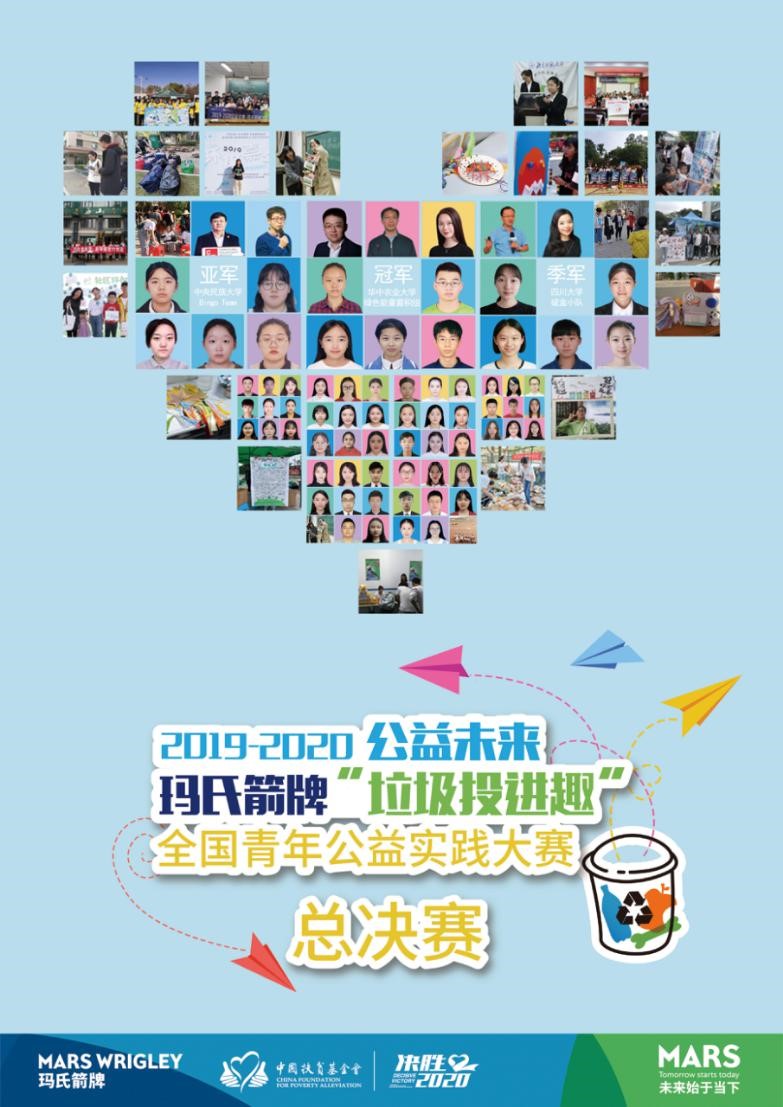 Group photo
The successful completion of the 2019-2020 BII China National Campus Program is not the end but the beginning of a new journey. Mars and CFPA will work together with the youth to create a better future.
[Organizer Introduction]
About Mars and Mars China
Established in 1911, Mars Incorporated headquartered in McLean, Virginia, USA. Over the past century, with its global footprint in over 80 countries, Mars has been acknowledged as one of the most well-known leading global food manufacturers and distributors. Mars owns four segments – Mars Petcare, Mars Wrigley, Mars Food, and Mars Edge. To achieve the purpose "Tomorrow Starts Today", more than 125,000 Mars Associates are taking actions in line with Mars Five Principles "Quality, Responsibility, Mutuality, Efficiency and Freedom" through daily work. Mars is committed to create a better world for people and their beloved pets by providing fruitful and valued products and services.
Our brands are well loved by consumers worldwide, including billion-dollar brands M&M's, SNICKERS, TWIX, MILKY WAY, DOVE, PEDIGREE, ROYAL CANIN, WHISKAS, BANFIELD and VCA. Other popular brands include CRISPY, EXTRA, ORBIT, 5, SKITTLES, SHEBA, MASTERFOODS, UNCLE BEN'S, COCOAVIA and BE-KINDTM. In 2017, its net sales have exceeded USD 35 billion.
Mars has initiated and expanded its "Sustainable in a Generation Plan", with focuses on healthy planet, thriving people and nourishing wellbeing. It has strived to promote shared value for its stakeholders throughout the whole value chain. Mars has made progress in areas, including responsible purchase, increasing farmers' income, promoting zero carbon emission, improving food safety and enhancing nutrition and health.
Established in 1989, Mars China operates three segments - Mars Wrigley, Mars Petcare (Pet Nutrition and Royal Canin), and Mars Food. Throughout the country, Mars China's operation includes seven factories, four innovation centers, 47 branches, 30 more brands, and nearly 10,000 Associates.
Over the past 30 years, Mars China has introduced new brands and customized innovative tastes to thousands of families and their beloved pets. Our brands, including DOVE, SNICKERS, M&M's, CRISPY, DOUBLEMINT, EXTRA, 5, TATA, PIM POM, SUGUS, SKITTLES, MALTESERS, PEDIGREE, WHISKAS, ROYAL CANIN, EUKANUBA, MASTERFOODS and BE-KIND are well-supported by consumers.
For more information about Mars global and China, please visit its official website at http://www.mars.com or http://www.mars.com/china/zh/home. Also welcome to follow Mars China official WeChat account.