Four-party's First Ever Cross-brand "Quaker with AI, Get Nutrition Home" Philanthropic Program Comes to a Successful Closure
time:2019-10-28
October 22, LAIX Inc., Dada-JD Daojia and China Foundation for Poverty Alleviation (CFPA) jointly held a donation ceremony at E-man Primary School in Dangchang county, Longnan city, Gansu province, announcing the successful closure of the "Quaker with AI, Get Nutrition Home" cross-brand philanthropic program. The program, having received donations of more than RMB 400,000 yuan, will distribute over 260,000 meals to improve the nutrition of 1,800 students at 9 primary schools in poverty-stricken areas of Yunnan, Guizhou and Gansu provinces. Cathy Tai, Corporate Affairs Vice President of PepsiCo Greater China Region (GCR), Jack Cui, Vice President of Government Affairs at LAIX Inc., Wen Huifang, Director of Health Development at CFPA, Dada-JD Daojia public affairs representative attended the donation ceremony and sent the best wishes of tens of thousands of national online donors to the schools' teachers and students.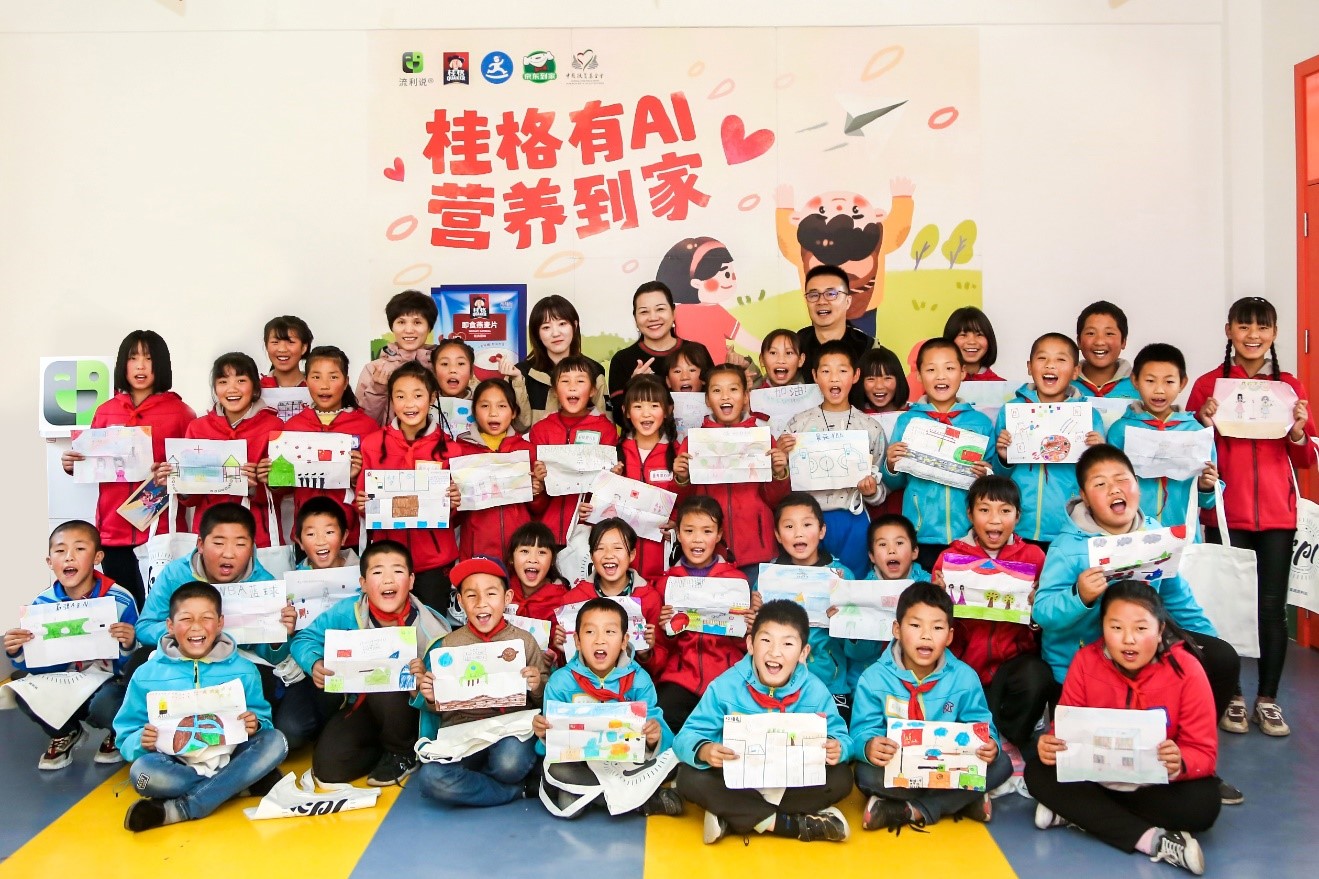 Children taking photo with guests
Quaker with AI, Get Nutrition Home is the three companies' first ever cross-brand public welfare program with CFPA by combining both offline and online activities. With the use of AI-driven voice recognition technology, the program combined the power of consumers and the online communities to provide children in impoverished regions with nutrition and care in multiple channels. The program was held from September 15 to 28 and involved over 24,000 participants who participated in LAIX's AI-powered H5 page or engaged in the public welfare marketing campaign at JD Daojia's app to express their care and love. PepsiCo granted matching donations of Quaker oats or cash to purchase eggs and milk as add-on for the nutritious meals.
Children enjoying their meals
Cathy Tai delivered the donation check to CFPA on behalf of the three companies during the ceremony. The representatives from the companies and CFPA also distributed extra meals to students in E-man Primary School, helped them try out LAIX's App, and had interesting interactions with the students in English.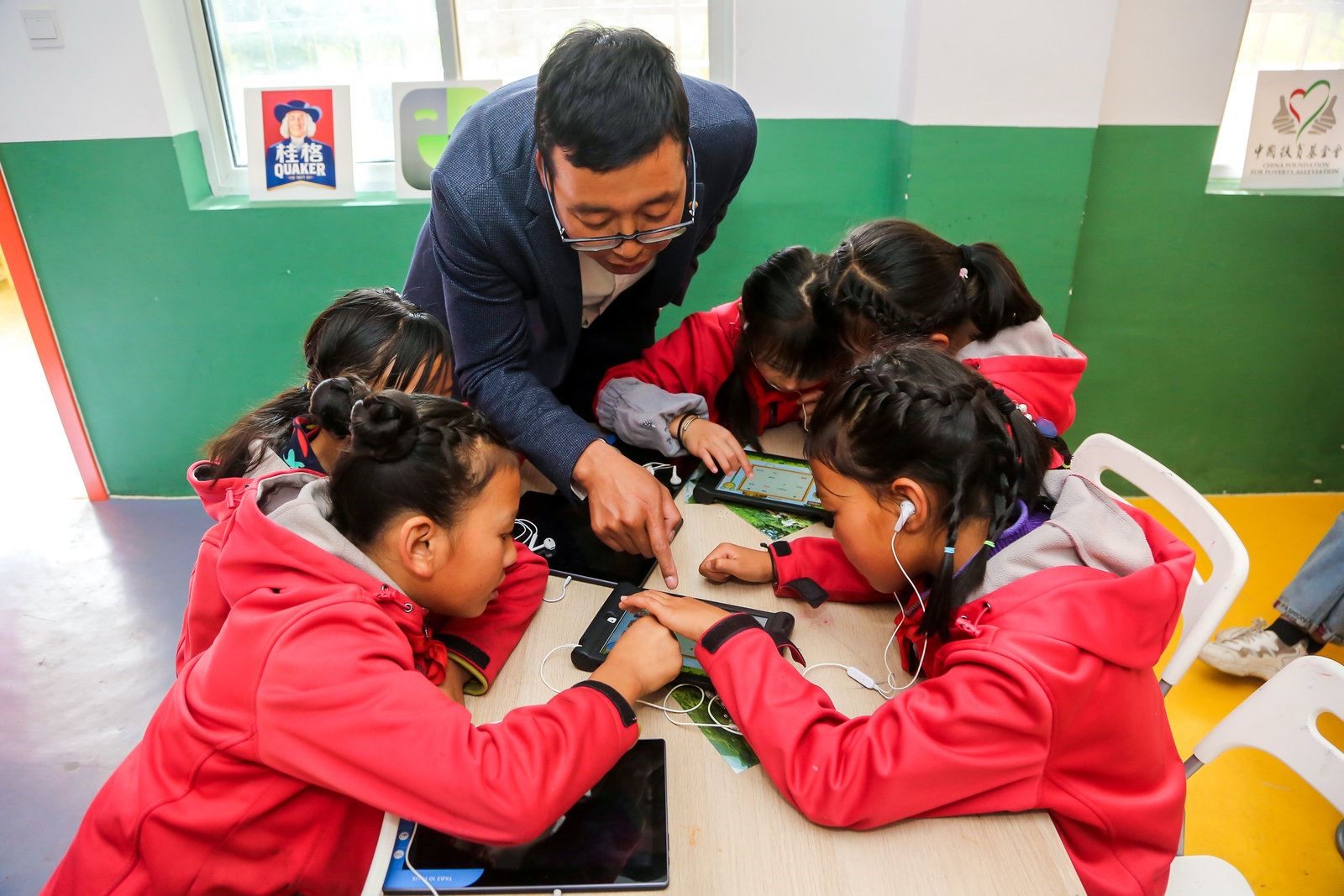 A guest introducing English learning app to children
E-man Primary School is located in the Tibetan Daheba village in Longnan city, a deeply impoverished region of the Gansu province. In Longan city, most of the students are left-behind children or live in settlements of minority ethnic groups, with over 60% of the students being ethnic Tibetans. In recent years, with the help of the government and companies, the school has been promoting quality education by using the "Internet + Education" management school of thought to upgrade the education level of the school. LAIX has been working with the E-man Primary School since September 2018, providing free AI-powered English courses that feature personalized, self-adaptive interactive learning materials to raise the interest and confidence of children learning English. With the great support of the principal and teachers, each student now has 400 minutes of English study each month.
"We appreciate PepsiCo, LAIX Inc., Dada-JD Daojia and CFPA for bringing nutritional gifts to the children here," said Yang Wenli, principal of E-man Primary School. "Though we live in remote areas, the students all dream about going beyond the mountains to see the outside world and becoming successful so that they can improve their hometown when they grow up. With the support of the central government, care of companies as well as help from the online community, we are lucky that we can leverage technology to help them realize their dreams."
"As one of the first multinational companies to enter China, PepsiCo has been continuously giving back to the local community while actively operating its business," said Cathy Tai, Corporate Affairs Vice President of PepsiCo GCR. "We have always been focusing on and committed to the improvement of the nutritional level of youth. The PepsiCo Nutrition In Action program has provided over 1.3 million nutrition meals for 12,000 impoverished primary school students to date," said Tai. "We are happy to see this program leveraging the latest AI technology to engage the national online community in philanthropic and English learning education. Netizens' donations transform to nutritious Quaker oats products, which will help improve the nutrition of students in destitute regions and raise awareness. We hope to launch more similar innovative and beneficial cross-brand philanthropic initiatives to bring more positive social impacts in the future."
Jack Cui, Vice President of Government Relations of LAIX, said that LAIX has been committing to using AI technology to achieve personalized and large-scale education as well as to promote education equality and help overcome the gap of unbalanced education resources. "Our Smart Cloud Classroom Project has so far supported 109 rural schools and more than 14,891 students," Cui said. "Leveraging our own AI technology, LAIX has partnered with PepsiCo, Dada-JD Daojia and CFPA to invite the public to participate in public welfare activities and raise their awareness about rural education. At the same time, this initiative can plug the wings of science and technology into rural education, so that the children in these areas can have access to high-quality English leaning education and enjoy the infinite possibilities of life. We feel very gratified with this."
A child learning English by using the app
Chen Zhiping, Public Affairs head of Dada-JD Daojia, said that Dada-JD Daojia is devoted to providing more convenient grocery and delivery services for consumers, as well as actively fulfilling social responsibilities by participating in public welfare, poverty alleviation and other social public causes. "In this joint public welfare program, Dada-JD Daojia leveraged the full power of its platform, enabling consumers to participate in public welfare through daily consumption, and encouraged more netizens to support the improvement of the nutrition of children in poverty-stricken areas," Chen said. "Every little action helps contribute to the poverty alleviation and winning the battle against poverty. In the future, we will continue to participate in similar philanthropic initiatives."
Wen Huifang, Director of Health Development of CFPA, said that the CFPA's decade-long Nutritious Meal project, which focuses on poverty alleviation through nutrition, is particularly concerned about the nutritional needs of children in poor areas, as well as the Three Regions and Three Prefectures that are suffering from the abject poverty. "The Quaker with AI, Get Nutrition Home program not only provides nutrition for children in poor areas but also calls on netizens and the public to pay attention to the poverty alleviation," Wen said. "We'd like to thank old and new friends like PepsiCo, Dada-JD Daojia and LAIX for their support and trust. We hope that more social forces will focus on improving the nutritional needs of children in deeply impoverished areas and work together to support China in eradicating poverty in 2020."
Founded in 1989, China foundation for poverty Alleviation is a non-governmental charitable organization registered with the Ministry of Civil Affairs and supervised by the State Council Leading Group Office of Poverty Alleviation and Development. By the end of 2018, China Foundation for Poverty Alleviation had raised funds and materials totaling RMB 5. 85 billion, benefiting 33.42 million person-times in disaster-stricken and poverty-stricken areas. In addition, 2.5 million small loans have been granted to rural households, with a total amount of RMB 40.74 billion.
PepsiCo products are enjoyed by consumers more than one billion times a day in more than 200 countries and territories around the world. PepsiCo generated more than $64 billion in net revenue in 2018, driven by a complementary food and beverage portfolio that includes Frito-Lay, Gatorade, Pepsi-Cola, Quaker and Tropicana. PepsiCo's product portfolio includes a wide range of enjoyable foods and beverages, including 22 brands that generate more than $1 billion each in estimated annual retail sales.
Guiding PepsiCo is our vision to Be the Global Leader in Convenient Foods and Beverages by Winning with Purpose. "Winning with Purpose" reflects our ambition to win sustainably in the marketplace and embed purpose into all aspects of the business. For more information, visit www.pepsico.com.
LAIX Inc. ("LAIX" or the "Company") is an AI company in China that creates and delivers products and services to popularize English learning. Its proprietary AI teacher utilizes cutting-edge adaptive learning technologies, big data, well-established education pedagogies and the mobile internet. LAIX believes its innovative approach fundamentally transforms learning. LAIX provides its products and services on demand via its mobile apps, primarily its flagship "English Liulishuo" mobile app launched in 2013. On the Company's platform, AI technologies are seamlessly integrated with diverse learning content incorporating well-established language learning pedagogies, gamified features and strong social elements to deliver an engaging, adaptive learning experience. LAIX provides a variety of courses inspired by a broad range of topics and culture themes to make English learning more interesting and is committed to offering a fun, interactive learning environment to motivate and engage its users.
Dada-JD Daojia is China's leading on-demand logistics and omni-channel ecommerce platform. "Dada", the local on-demand logistics platform, covering more than 450 major cities across China. It serves over 1.2 million merchants and 70 million individual users, with 10 million peak daily orders. "JD Daojia", the O2O e-commerce platform, partners with over 100 thousand leading retail stores, providing one-hour delivery service of fresh fruits and vegetables, groceries, flowers, baked goods and pharmaceutical products to the homes of its users in more than 100 cities across China. JD Daojia has more than 74 million registered customers and 30 million monthly active users. Dada-JD Daojia was originally established in 2014, and has raised $1.3 billion from global leading investors including Sequoia, DST, JD, and Walmart, etc.